Featured
Focusing on innovation and technology alongside mega sport events like the 2014 World Cup in Brazil the exhibition design utilises interactive and sensorial elements to mediate the experience of the user.

Read more
Latest
12 June 2014

The World Cup! A time to finally let the monsters out of the closet. All the national zombies - out, apolitical vampires - out (at night please), jolly sacis - out, too-political vampires - out (anytime…). In the same spirit, we let one of our creatures out into the world too (sort of…).
Read More
news
by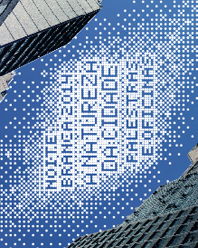 NaJa & deOstos have been invited to run a 5-day-workshop in Belo Horizonte, Brazil, as part of the 'Noite Branca 2014 - The Nature of the City' event. From 18-22 November 2014 at Palacio das Artes. More details can be found at http://www.noitebrancamg.com.br/
Read More
contact us
Want us to work with you? Want to be part of our little big universe? Want to publish our work? Or just want to let us know your thoughts? Whatever your enquiry is, we would like to hear from you!
write us: NaJa & deOstos . 37 Great Russell Street, Suite 8 . WC1B 3PP London, UK
call us: 0044 (0)20 7637 5305
email us: info@naja-deostos.com
Follow us on Facebook, Twitter, Vimeo and Instagram: