Brazil at Heart







Project Team: Ricardo de Ostos, Nannette Jackowski, Chryssanthi Perpatidou, Manuel Jimenez, Martin Aldaco, Constantinos Caropoulos-Alefantis, Michelle Lam, Samantha Lee, Adam Casey
Special Thanks to: Maria Olmos
Photos: Samantha Lee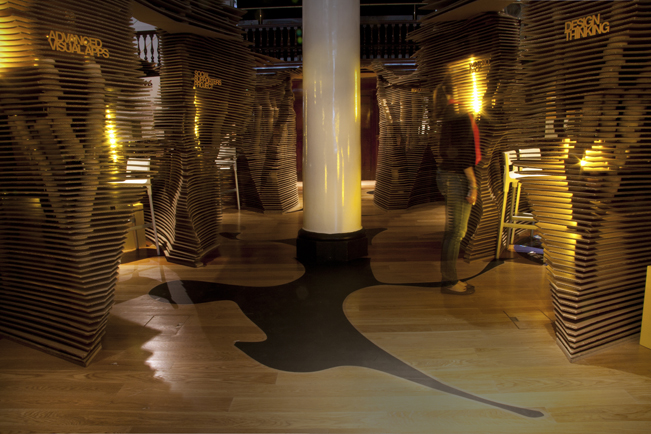 Opened by the Brazilian President Dilma Rouseff Brazil at Heart intends to reveal a modern nation with cultural diversity and exuberant nature.
The 750sqm temporary installation set over two floors utilises the ambiguity of alluding Brazilian sinuous natural forms while formalising it as a synthetic nature made of heavy-duty paper.
Focusing on innovation and technology alongside mega sport events like the 2014 World Cup in Brazil the exhibition design utilises interactive and sensorial elements to mediate the experience of the user.
The ground floor structure is made of 103 layers of triple walled corrugated cardboard accommodating ten exhibitors spaces and exhibition infrastructure.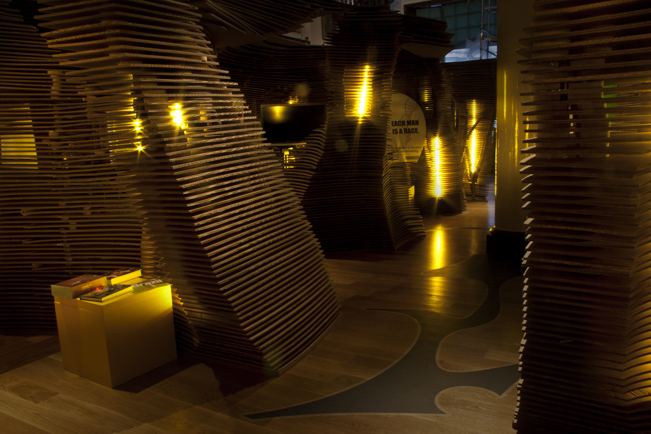 Situated inside a listed interior the exhibition design creates three independent circulation routes allowing autonomy between existing and new. Departing from a 'neutral box' and a box of surprises concept the final design exaggerates the contrast between existing English traces and organic internal spaces all to be further augmented with a new layer of narrative from an observatory space positioned at higher level.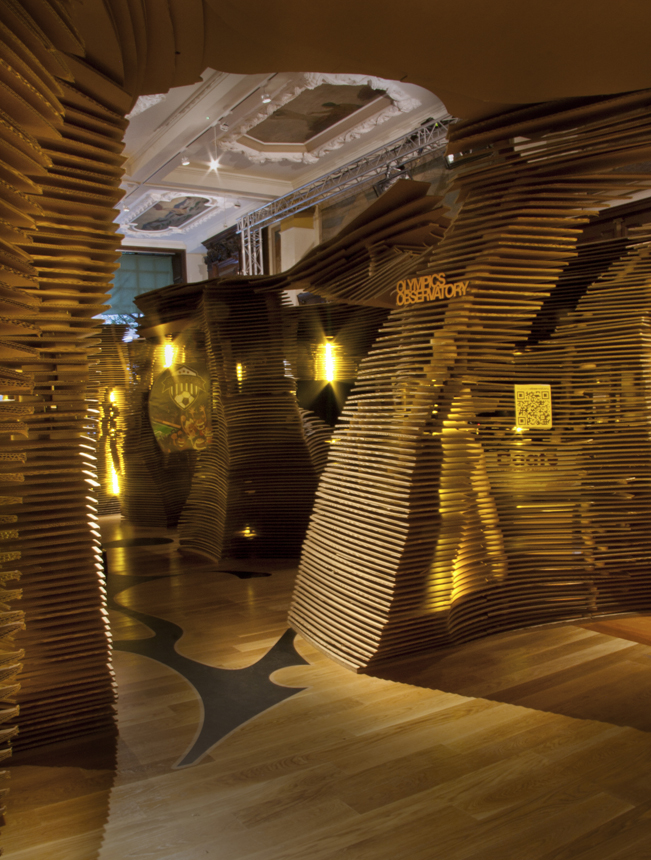 From the observatory on the mezzanine level visitors can see the installation in a new context. A 3d mapping projection produced by the Sao Paulo based art group Bijari inserts a critical recreation of Brazilian visual identity.
Two inflatable structures with embedded screens represent two pulsating abstract hearts to welcome the visitors at the entrance of the exhibition and create an inside-outside interaction between street activity and exhibition display.